Learn how to make YT Channel art on the post Youtube Channel Art Template PSD here.
YouTube Channel Art Template
YouTube Channel Art or YouTube Banner size are regularly changing by years. So it's confusing all how to upload your one. That's why we came here to make your task easier.
In short the maxium size for Channel Art of YouTube is 2560px x 1440px and the minimum is 1488px*423px. Here we will provide you the free youtube channel art template psd for Photoshop which you can easily edit and change your content as per as your need.
Before Start let me show the template sample image below.
How to make effective Channel Art for YouTube?
If you wish all your YouTube channel art content must visible across any device then you have to place all of your content inside TEXT AND LOGO SAFE AREA shown in the image above. Therefore if you are targeting only a type of device then you have to choose respective size shown for TV, Desktop and Tablets.
1. Canva YouTube Channel Art Template
This template comes for canva user who use Canva to edit their blog post image, social media image and youtube channel art image and youtube custom thumbnail image. You can go through this template and edit as you want and download for free.
2. Photoshop YouTube Channel art Template PSD Download
This template comes for those who mostly use Photoshop for any image editing like for blog post featured image,youtube channel art image and so on. Download the Photoshop psd template file from the button below.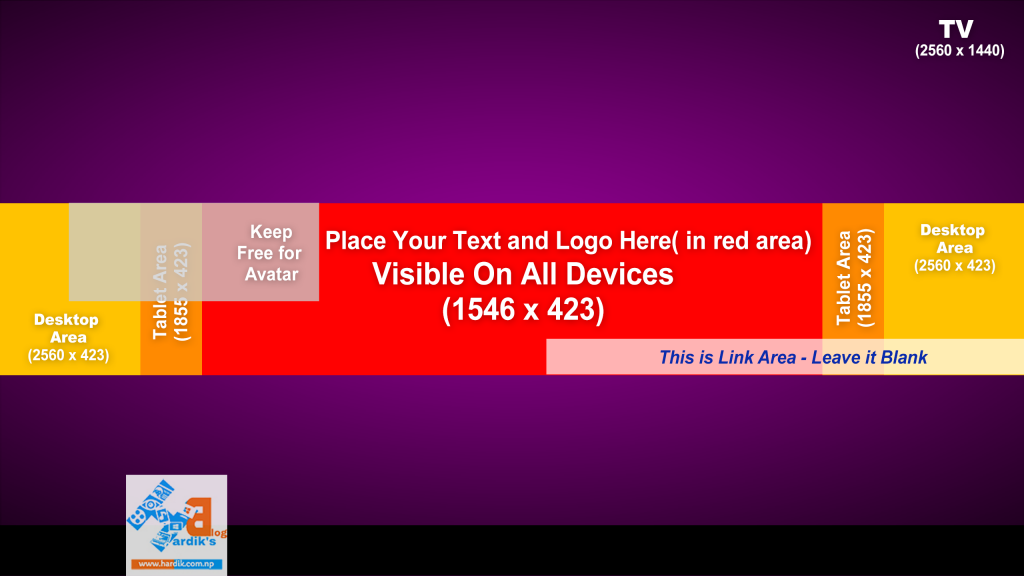 Download YouTube Banner Template Click on Button Below.


Click here for detailed YouTube channel art size.
Please Like, Share, Comment and Subscribe us for free updates.