Reading this post you will be able to learn How to Recover Loksewa Aayog Username Password in detail. (Screen Name & Password)
How To Recover Loksewa Aayog Online Form Screen Name and Password?
How to reset Loksewa Aayog username & password?
I forget Loksewa Aayog online application form Username & Password?
I forget Lok Sewa Aayog Screen Name?
[su_divider top="no"]
Now let's start our textual Tutorial or Instruction How to recover loksewa aayog username password?
Step-1 : Go to official website of Loksewa Aayog "www.psc.gov.np" and click on "Online Application" Button on right top corner shown on image.
Step-2 : Now you will be on the sign in page where you can find forget password button just like in the image below. Click on that 'Forget Password" Button.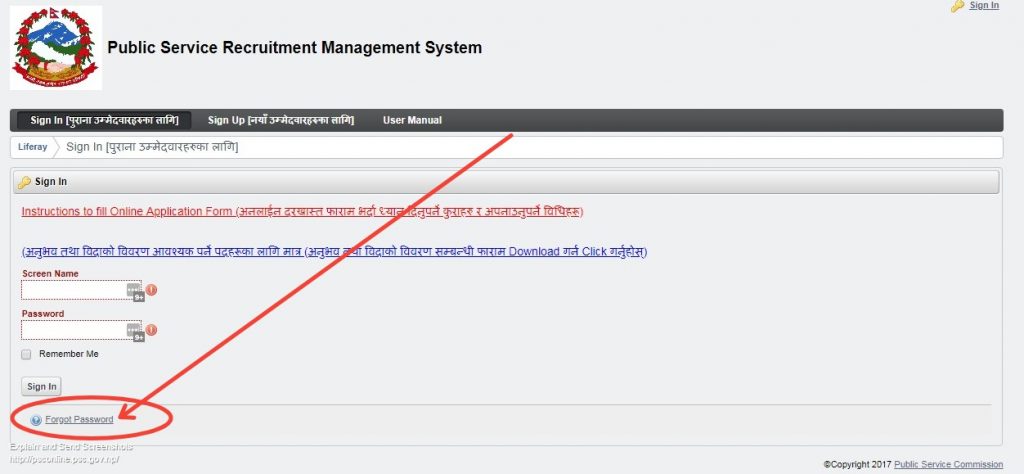 Step-3 : Now you are on the page where you have to type your USER NAME/ SCREEN NAME which is required to put there, Without your screen name you can not reset your password. If You have forget your Screen Name too 😀 then you have to contact your nearest PSC Office.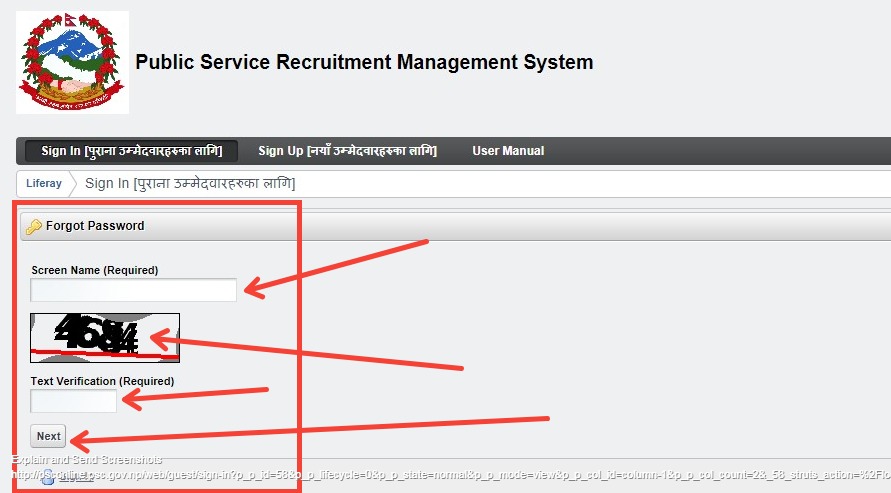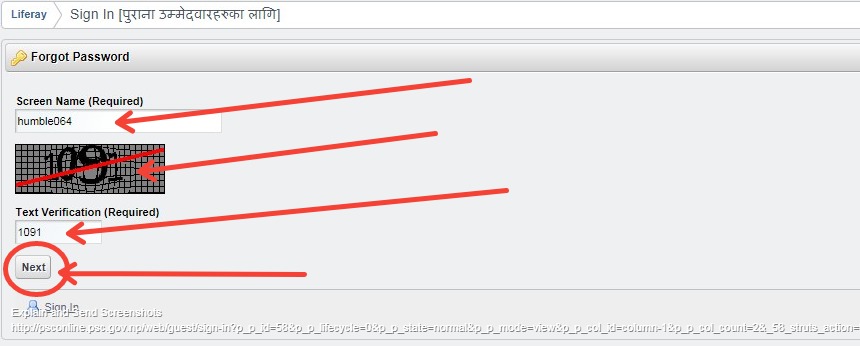 Put your screen name or username at top, then in second text box type the text and number which are shown on the image just above your Screen Name (just like at Second arrow). After that click on 'Next' Button.
हरेक Click / Refresh मा माथी देखिएझैँ Text Verification Code बदलिरहनाले तत्काल देखिरहेकाे काेड नै लेख्नुहाेला ।
Step-4 : Now will lead you to the Sending Password Reset Page where you have to cross the Question-Answer Step Successfully. And Click on "Send Password Reset Link" Button. As in the image below.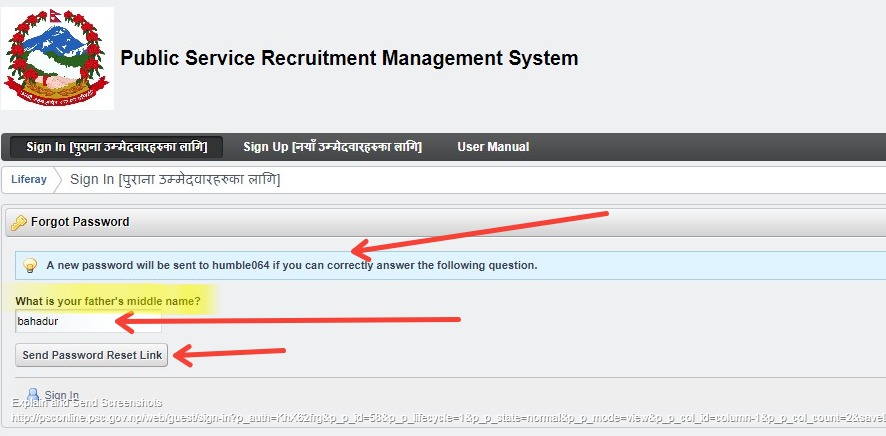 यहाँ तपाइँले फारम भर्दा दिएकाे सेक्यूरीटी चेक प्रश्न तपाइँकै विवरण सँग मिल्दाे साेधिनाले सहि उत्तर टाइप गर्नुहाेला । अन्यथा उत्तर नमिले याे प्रक्रिया सफल हुने छैन ।
Step-5 : Now you will get a message on your mobile number which you have added on PSC form fillup process or you will get the email you provided. The final message will be as follows.
Now you have successfully reset or recovered your loksewa aayog username password. Please Share the post if it helps you.
Incoming Search Terms: recover loksewa aayog username password
[su_divider top="no"]
(PLEASE CONTACT US IF YOU WANT TO PAY YOUR REGISTRATION FEE FROM YOUR HOME. YOU DON'T NEED TO GO LOKSEWA OFFICE CONTACT US, यदि तपाँइलाइ फारम भर्ने प्रक्रिया वा फारम भरिसके पछि दरखास्त दस्तुर तिर्न असहजता छ भने हामिलाइ हाम्रो फेसबुक पेजमा आफ्नो MASTER ID सहित बिवरण दिनुहोस हामि केहि क्षणमै तपाँइको दरखास्त दस्तुर लोकसेवा आयोगको जुनसुकै कार्यालयमा घरमै बसेर वुझाउने ब्यवस्था मिलाउँनेछौँ।).
लाेकसेवा अायाेगकाे अनलाइन फारम भर्ने तरिका काे बारेमा यदि तपाइ पुर्णतया अनबिज्ञ हुनुहुन्छ भने याे भिडियाे हेर्नुहाेला ।
Please watch the video below:
If you do have any problem regarding the PSC Online application form please refer my video tutorial above and feel free to discuss in the comment.
Please like share and comment if you love the post.