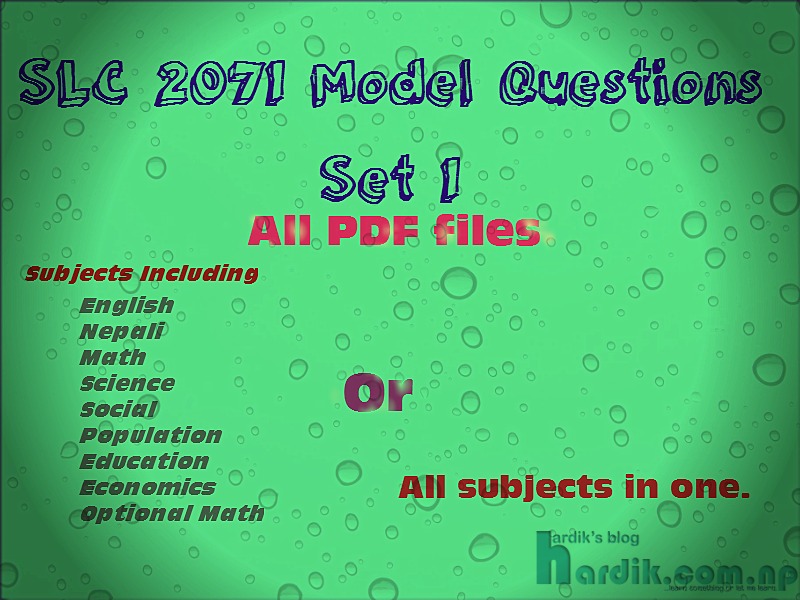 Befor this you must read: Some exam tips and tricks for SLC 2071.
We all know that this year's SLC 2071 (School leaving certificates) examination is going to be held from 5 Chaitra of 2071. So SLC exam is on the head of those who are preparing SLC this year. But SLC exam is not firing the head of students only rather it is also a big headache for teachers as well as for the whole school, I'm also the one who have a big rock inside the head. 😀
Read this post also: SLC 2071 Question Paper English D2
Recommended post: Some exam tips and tricks for your SLC.
As you know professionally being a teacher here I want to post the real SLC model questions which was created by me and my school. Actually we use to conduct weekly test examination on every Saturday for our student. So till now we have completed three stage weekly test exams having all subjects thrice. After finishing all exams I decided to share those SLC 2071 model questions for all SLC students from all over Nepal who are use to be online.
So here I'll post all those three sets of questions (having all subjects) one by one. I hope this will help those who want to solve new models and questions.  I'll share here all three sets in PDF format which you can download easily for free.
Note: First set is prepared while the course of our Class 10 was just on one third of full course that's why papers may only contain one third of the course. But in 2nd and 3rd set it will upgraded as real model.
Please help us to grow !
Like, share or follow us using any of button below before you download.
Download link will be shown only after your help.
[sociallocker id="269″]
Finally after you complete your downloads you must need to know some fruitful exam tips before you go for your SLC 2071.
Click to read: Another post about complete guide how to be more confident in an exam.
Read this post also: SLC 2071 Question Paper English D2
Please don't forget to share this post.