'Kothiyaghat' the transaction corridor of Rajapur island. It is situated at the most west part of Bardiya district. Geographically it is a island between the two big branch river  of Karnali. Before Kothiyaghat let me introduce you about Rajapur.
Rajapur island have 11 VDCs* on its territory. Rajapur is the determining source of rice after Jhapa in Nepal, the most and one big property of Rajapur is that it has got the divine powered well growing agricultural field where people use to grow gold as rice and other crops even without any modern agriculture resources.
I know now you are wondering that why I headlined my Rajapur  as Hell. There is a religious proverb that Rajapur is the land of Curse of Sati (First wife of Lord Siva). For Rajapur there are only two cost of transport around it. First one and popular cost is the "Kothiyaghat" and the second one is "Daulatpurghat". Daulatpurghat joins Rajapur with Kailali district and Kothiyaghat joins Rajapur with its neighboring VDC and its district capital Guleriya.
Kothiyaghat is situated at the river side of Karnali River. This is a small village in the south of Bardiya National Park and it's into the buffer zone area of Bardiya National Park. It's a "Ghat" which means the transaction point from where the people from two sides of river could sail and cross the river. It is the place through where people from Rajapur Island could go outside of island and people from outside of this Island could go into it via a type of boat called "Steamer", it's just like the harbor at the sea.
Following video tells much about Kothiyaghat and the life of Rajapur people including me. 🙁
Kothiyaghat lies between Khairichandanpur VDC and Dhodhari VDC or it lies into the Suryapatuwa VDC and it lies beside of the Karnali River. It's a area having only hundreds of people but having two kilometers of sand bank and jungle. There are two harbor for Rajapur Island but Kothiyaghat is biggest one and the famous one among the people. Across here about thousands of people use to travel daily.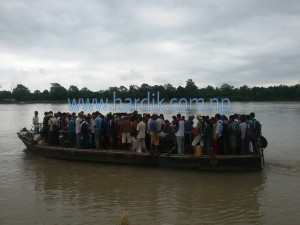 However it is a transaction point of this poor island, it always troubles the citizens over here on every season, especially on monsoon. Because in monsoon we have to cross the river via Steamer, which is the most risky means of transport in the river of monsoon as well as very dangerous. But there is no any other option beside it.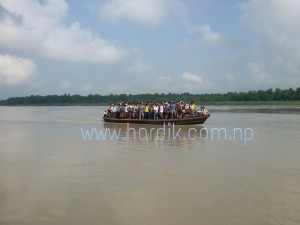 The actual problem occurs then when a patient or any emergencies should go outside of this island at night because in the night there is no service of Steamer. But after the long struggle of Rajapur people, a huge concrete bridge is going to be constructed over here and it will be completed after the Dashain of 2071. So forgetting all of historical sorrow people form Rajapurs are going to celebrate their milestone of brighter tomorrow.
When I heard the news of Kothiyaghat Birdge  for the first time, I can't stop my pen. Below is my poem where you can feel why it is called Hell. Oops I think now in the previous line it should be "why it was called……. 😀  😉
Kothiyaghat

You gifted us a very precious sorrow,
Even we tolerate you, dreaming our tomorrow.

You sink our goods and cattle, even our life,
However we never give up loving you as our wife.

Wish to have you on a drastic look,
For the future we made it by hook or crook.

This is the last you could poke this heart,
Coz upcoming Dashain will gonna it Invert.

Forget how we curse and spit on you,
Tourist will die to have your view.

By: Hari Sharan Lamichhane
         Manau,Bardiya
Forgetting its bad aspect it is a place having so many opportunities in future. It is the only the one place where  tourists can see Dolphin into the river of Mid-western Nepal. In the monsoon season we can easily see some Dolphin into the Karnali River at Kothiyaghat. In other hand Kothiyaghat is a international corridor for wild animal especially for Elephant, Tiger and Rhinos. It is a rumor that the Hulaki Road which goes through Kothiyaghat is going to be converted as Highway in the future, it will also be a great deal for the development of Kothiyaghat and Rajapur Island.
* But now Rajapur is inverted as a "Rajapur Municipality" adding 5 more VDCs. of this Island. Now here are 1 Municipality and 5 VDC.
Photo Courtesy: Madhu Sudhan Rimal
 Nauranga,Manau
 Please add your view about Kothiyaghat, Rajapaur and our life over there as comment below.