There are plenty of personal things kept in our computer which we do not want to share with others so we need to keep them unavailable or unusable. However our OS gives us some options to hide our important things but  this only would not make your documents safe. Therefore we have to do it buy our own for more safety. Anyway I already have introduced you this application before here http://nepaligajalsansar.com/lock-hide-filefolder but today I want to show how can you do it step by step.
Step-1
-At first download the software from its Official Webpage or vendor.
Official Link of Software by its Creator.
Contact us if you got any problem on these steps.
– After finishing download. Install the software by clicking on 'Setup' file.
Step-2
– Now if your PC install it successfully, open the software by clicking on      Shortcut icon "File and folder protector" on desktop or form start menu icon.
Step-3
– When you click on desktop icon, it popup you a input password message box. Now you have to put the password "admin" and press OK to open the application.
Step-4
– Now another window popup to you where you should click on 'Start the program'.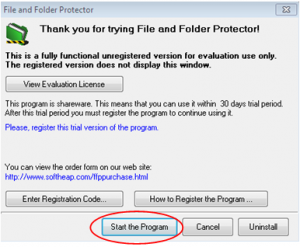 After clicking on 'Start the program', you are successfully opened the application. And now you have to do some settings before lock your files.
Step-5
– Now Click on "option" tab from menu at the top. After that you will have a window where you will see three tabs 'General' Password' and 'Hot Keys'. -General Tab
– Make unlock time as 1 hour.
– Tick on 'Allow to protect files from the explorer context menu.'
– Password Tab
– Reset both password and remember them.
– Hot Key Tab
– Set shortcut keys to open this software, to lock files and to             unlock files.
Note:- If you do not change your default password 'admin' into your own password, other user easily will open this app and use/view your documents. That's why you have to  change default password and do some more settings to make your surfing easier.
If all you done now you are ready to lock your required file,folder and so on.
Step-6
– Now as image below where you can choose your things to lock or hide. – Click on 'Computer' now.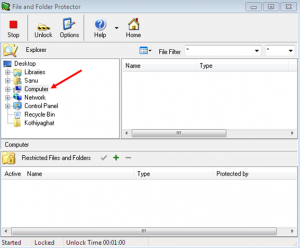 Step-7
– Now select to choose your drive/folder or file to hide and lock them and click on green + button after selecting them.
Step-8
– Now again it shows you a window where you just need to click on "OK".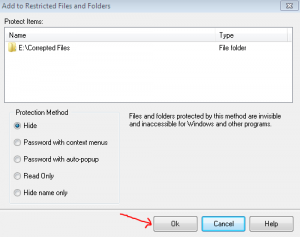 Yes, It's done you have successfully hidden your folder. And all your hidden things would be shown on most bottom portion of this window as image below.
Finally Here is my video tutorial which can help you to configure this application easily.
 Don't be selfish to share this tutorial with your friends.