Have you ever seen your Political leaders dancing on a Blockbuster song like तिमी पिरतीकाे छाता अाेढाउ न ?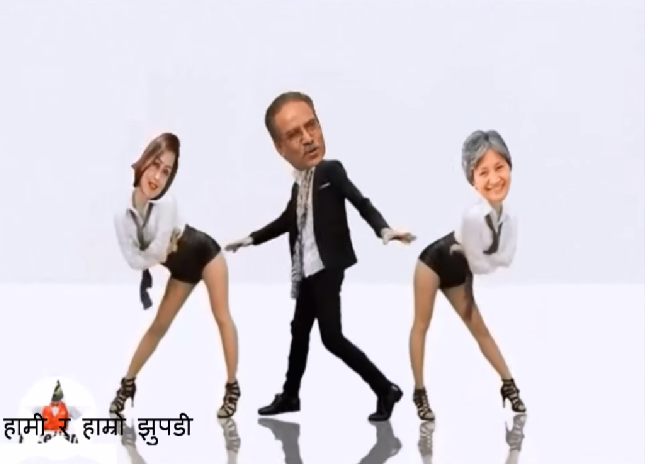 'Jaalma' the title song of movie 'Resham Filili' had grabbed grand success and made viral on YouTube before a couple of month of it's release date 2072 Baishak 12. The song made producers to collect their investment of entire movie only through the royalty till the days of it's release. Unfortunately just after one of it's release Nepal suffers from the earthquake, after that the movie closed after showing couples of shows on multiplexes.
The success of the movie will be evaluated after on but the song Pirati ko Chhata has become a national song for all music lover through out the globe. That's why even our Political leaders can't help themselves to dance on this song.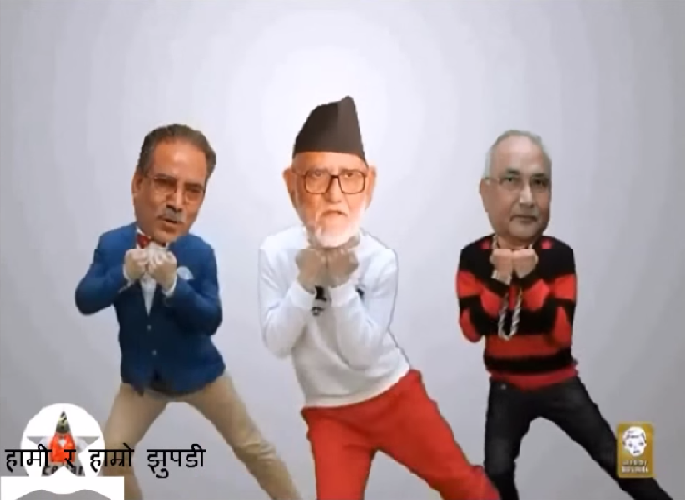 Honestly this new video is also getting viral on social media till the third day of it was uploaded. This parody clip has been uploaded by 'Hami ra hamro jhupadi' on Youtube where we can see political leaders dancing so gracefully. In this parody song we can see political leaders dancing including Pushpakamal Dahal 'Prachanda', Baburam Bhattarai, Shushil Koirala, Madhav k. Nepal, K.P. Sharma Oli, Hisila Yami, Sujhata Koirala and Rekha Thapa.
The composer of this song had worked so hard to out put it, and they had done it so nicely. I really enjoyed it, so can't stop myself to share with you. I wish if I could see the real Nepalese political leaders dancing.
Enjoy the video.